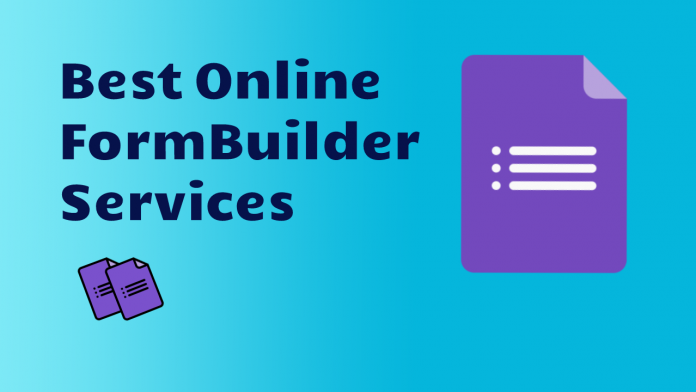 What is a Form Builder?
A form builder is a software for creating any web forms online.
Forms are very effective when it comes to collecting or capturing leads, market research, industry trends studies, even if it is still very effective to get feedback from clients. Usually, the best form builder apps are similar and user-friendly, and there is no shortage of options. Whether you want to create a contact form, a survey, a sign-up form, form tools make it very easy to create web forms that have questions about drag and drop, different colors, structure options, and even multiple fields of form.
If you look around the internet-world, all websites will be made up of a ' Contact Us ' page. This page looks at the contact form to help users connect to the users. See, the need for Forms arises here.
Today's form tools generally also offer many different features such as progressive profiling, smart fields, and interactivity.
14 Best Online Form Builder Services
Table of Contents:
1. Paperform
2. Typeform
3. Wufoo
4. Zoho Forms
5. Google Forms
6. Formsite
7. Formstack
8. Gravity Forms
9. JotForm
10. Leadformly
11. Formbakery
12. Formdesk
13. Conversational Form
14. FormGet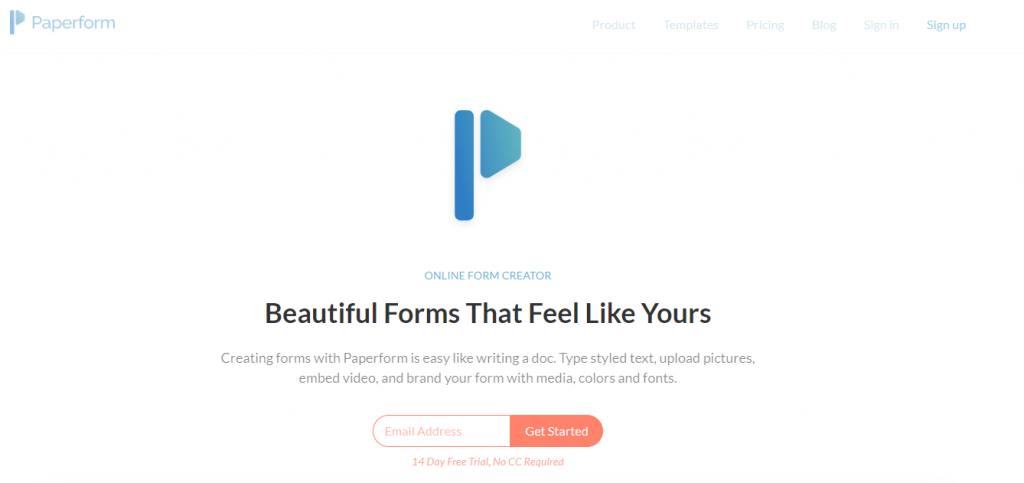 More than a form builder. Easily create beautiful forms, payment or product pages that feel truly yours.

Paperform
Paperform is a powerful form builder with a present UX that makes it very easy in a matter of minutes to create a form. With a focus on customization, Paperform is an excellent solution to create lovely and robust shapes that meet your specific requirements.
The tool features a broad range of question types as well as conditional logic and computation fields to help you create a smart form that interacts in real-time with your respondents. It also provides fully customizable components, including media, typography, and the capacity to add as required custom HTML and CSS.
Creating Paperform forms is as easy as writing a doc. Type text, upload pictures, embed video and use media, colors, and fonts to brand your form.
It has a fast and powerful editor, payments & subscriptions, custom emails, success pages, and pdfs.
It also supports integrations with your apps, rich content and theming and condition logic.
You can use the Paperform for Lead capture, landing forms, event registration, collecting payments, client onboarding, surveys & quizzes, application forms and more.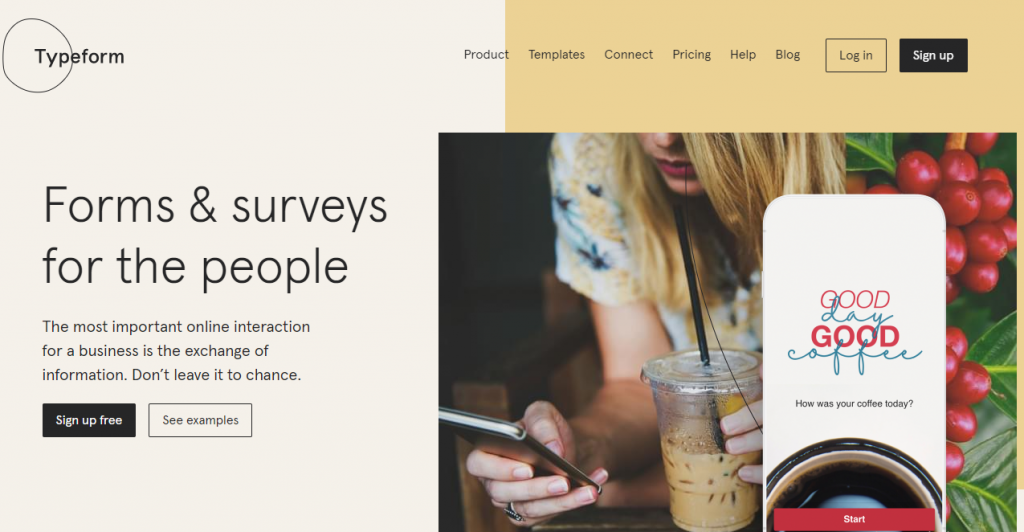 Create interactive experiences for your audience — get more responses. It's that simple. Try it FREE – no coding required.

Typeform
Typeform takes an innovative solution to the shape building world. With an intuitive layout, the tool guides you one question at a moment through the form creation process and makes the study construction experience fun and interactive.
Typeform is indeed great for online surveys and user research you can create and send to your list independent survey links. If you want to try something with a user experience that is engaging and simple, the instrument is a strong choice.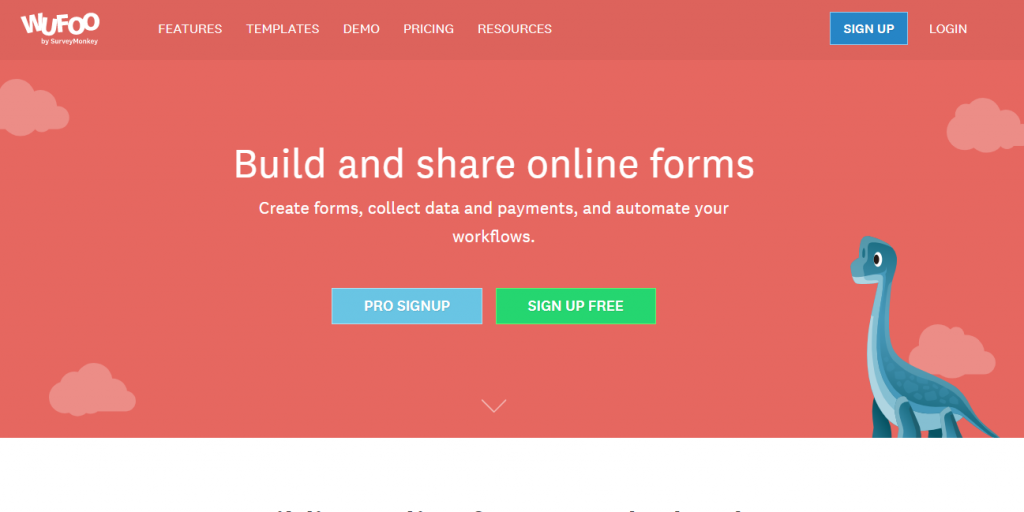 Wufoo's online form builder helps you create custom HTML forms without writing code. Use our online form creator to build contact forms, surveys, event …

Wufoo
The look, as well as the elements in the form, are provided by Wufoo as a form builder. It allows adding anything to the form including those of the payment options and the uploader of the file. It's been around for a long time, and you may have heard of it already. This user-friendly form builder with powerful reporting abilities is ideal for both beginners and experienced users.
It has several built-in form template provided to use, also you can add custom rules in your form.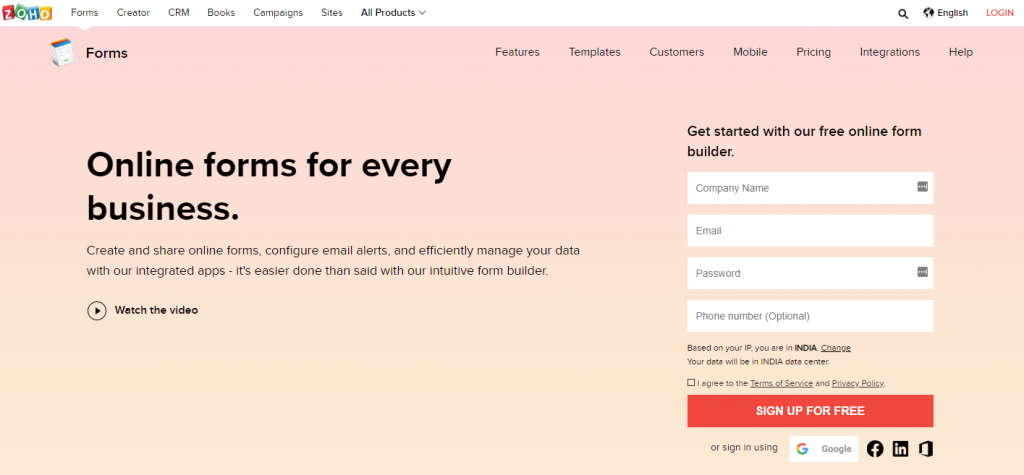 Powerful online form builder for business. Create & share forms, collect data & collaborate with your team on the go with mobile forms. Try Zoho Forms!

Zoho Forms
Zoho allows applications for CRM, email, billing, document editing, but far more and Zoho Forms connects them all. You can start building forms in Zoho Forms free of cost if you have a Zoho account. When filling out the forms, you can use form guidelines to generate assignments and send messages from Zoho, or use their integrations to add form information to Zoho CRM, Zoho Creator, and more. The Zapier integration of Zoho Forms allows you to send information to even more applications.
At last, Zoho Forms is designed for teams, so working together on form responses makes it simple for you and your peers. From the Zoho Forms mobile app, you can approve form reactions or view stats or share information from forms in the other Zoho applications that your team uses.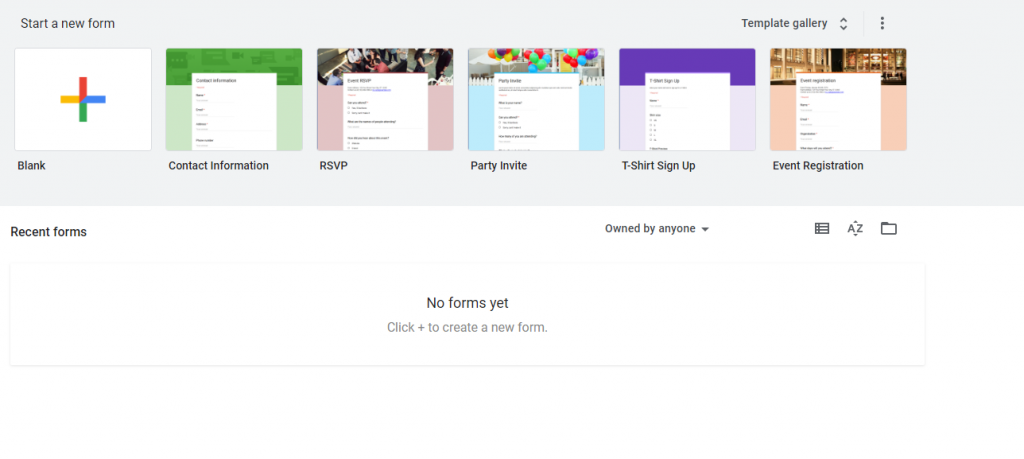 Use your own photo or logo, and Forms will pick just the right colors to complete your own unique form, or choose from a set of curated themes to set the tone.

Google Forms
For many reasons, Google Forms is a great form builder app. First, it's completely free, all you need to do is use a Google account. Second, it automatically saves the results of your type to a sophisticated analysis Google Sheets spreadsheet. Finally, it's extremely fast: in the Google Forms editor, adding and editing form areas is noticeably quicker than using nearly any other form app.
Whereas the design of Google Forms may not be customizable, this form tool is best put on your website for fast market surveys rather than a professional survey or type of lead capture.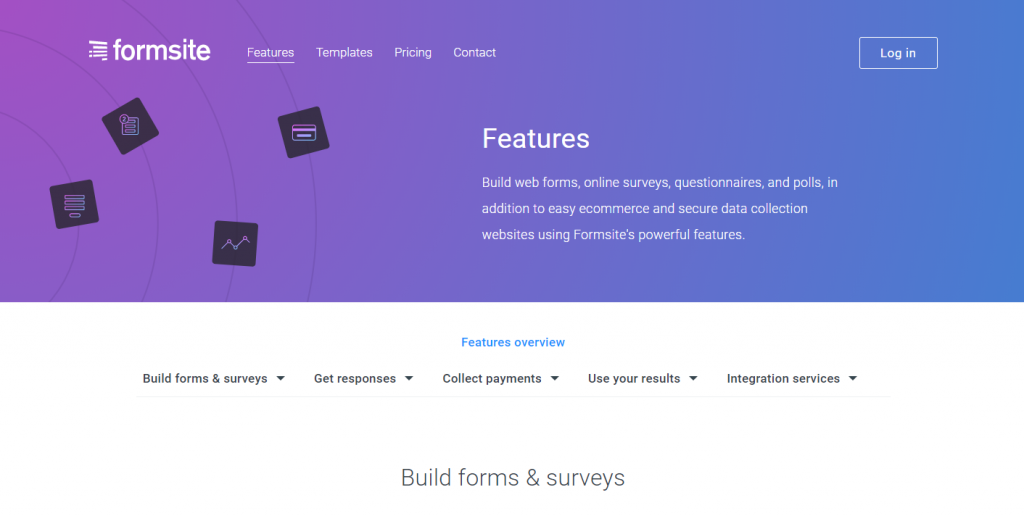 Easily create online forms and surveys using our HTML form builder. Professionally collect orders, registrations, reservations and customer feedback.

Formsite
Create web forms, online surveys, questionnaires, and polls, as well as simple eCommerce and safe websites for information collection using the powerful features of Formsite.
There are various features available like Secure form, allow partial responses, collect file uploads, link related forms, mobile-responsive forms, QR codes and protect with CAPTCHA.
It comes with built-in payment processing integrations like PayPal, Braintree, Authorize.net, Stripe or you can use encrypted fields to directly accept credit card or ACH data through your form.
In Formsite, you can also reuse blocks of form and data. Build a standard billing block, then embed it into other forms so you don't have to recreate it again and again. Or you can link numerous forms together, pull user responses submitted in one form to another so that customers don't have to fill out their details various times, or even combine multiple forms outcomes to view information together. And once you've presented answers, you can be sure that the information gets where it needs to go with the Zapier integrations of Formsite.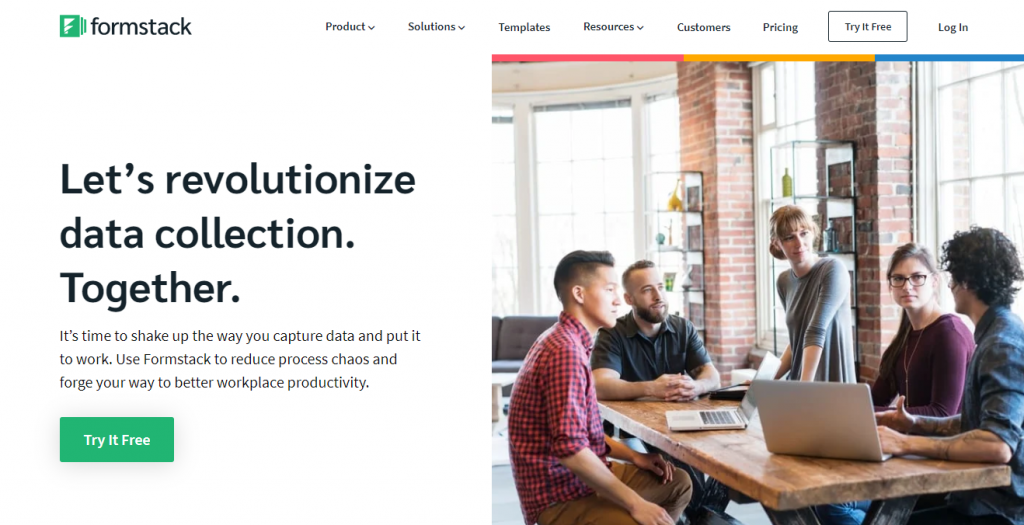 Advanced online form builder & data collection tool for registrations, surveys, payments, leads & more. Use our online forms to increase workplace productivity.

Fromstack
FormStack focuses mainly on the development of business and professional types of style. The greatest characteristics of the tool include smart forms, integrated workflows, and seamless integration with Google Sheets, PayPal, and MailChimp.
There's no better form generator like Formstack if you're looking to create a professional form or want a form for business purposes. This form generator is recommended by all those who are looking for additional features in the form with its function of denying submission, powerful payment processing, digital signature, encryption, etc.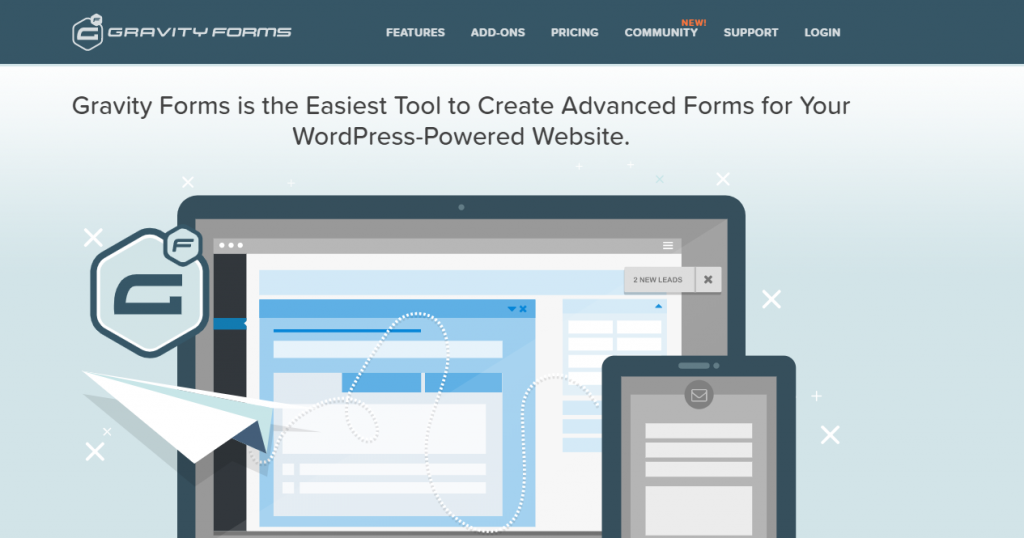 WordPress forms are easy with Gravity Forms, the most trusted WordPress form plugin. Gravity Forms makes building advanced WordPress forms a breeze!

Gravity Forms
With the assistance of multi-page / multi-step forms and a range of time-saving features, Gravity Forms is yet another WordPress-powered plugin.
With this software, you have access to a multitude of email software integration possibilities and add-ons, messenger platforms, payment options, and automation software. You can also generate sophisticated forms, but they can be somewhat complex to set up for non-techies.
The greatest benefit of using Gravity forms is that they are theme-optimized forms, i.e. the forms are seamlessly embedded with the website theme without any unique user programming.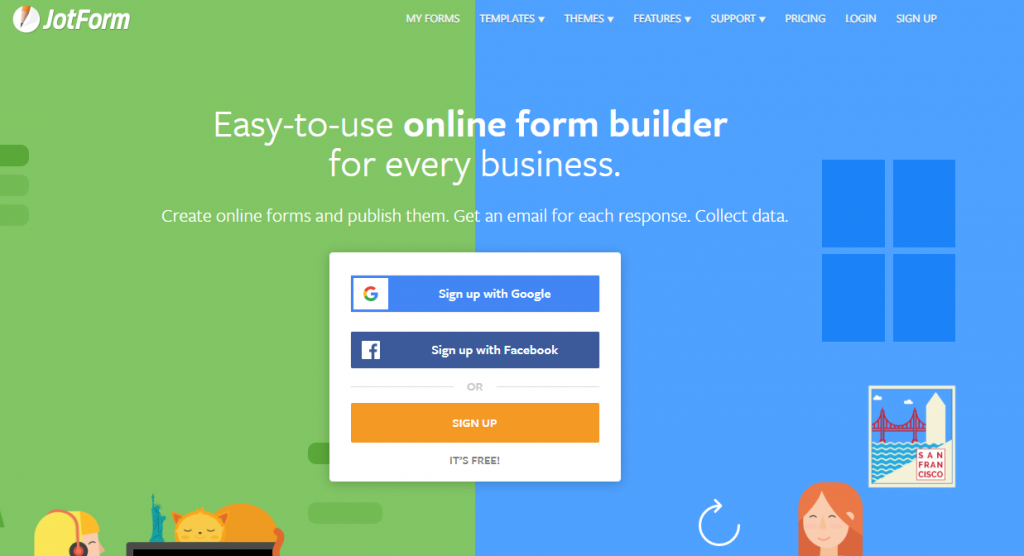 If you need online forms for generating leads, distributing surveys, collecting payments and more, JotForm is for you. Learn more about how we can help at …

JotForm
JotForm is a web form builder with an intuitive visual editor, known to make the development of form quicker than ever before.
To customize your own forms, the tool has all the ordinary form development capacities as well as different areas. It also integrates with nearly every marketing platform. With up to 100 entries per month, the free plan caps out at 5 forms.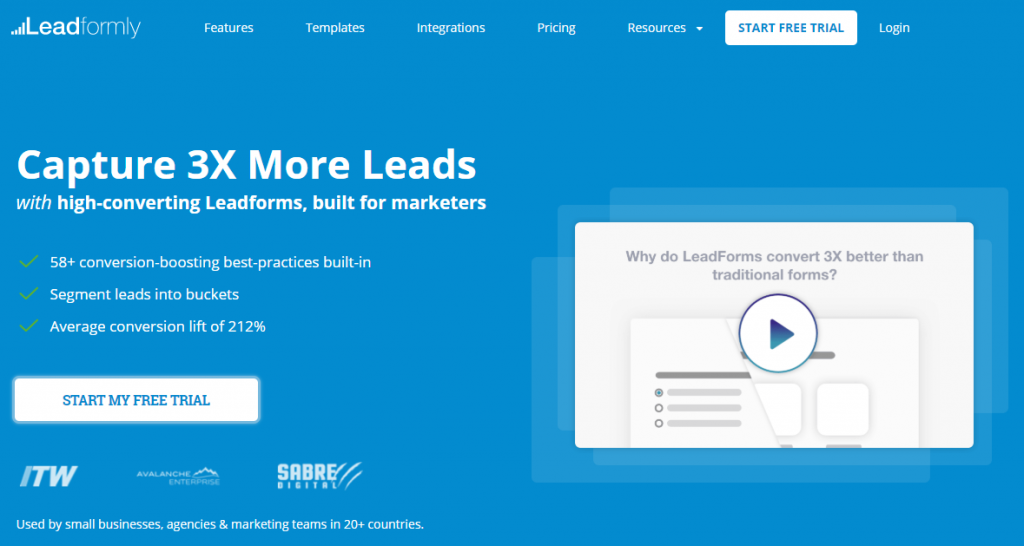 Capture and convert up to 300% more leads using conversion-optimised lead capture forms. Save hours with pre-tested templates.

Leadformly

Leadformly is an web form builder for creating lead capture forms for customers. It features a builder of drag-and-drop form, robust conditional logic, optimized templates, and access through Zapier to more than 1,000 integrations.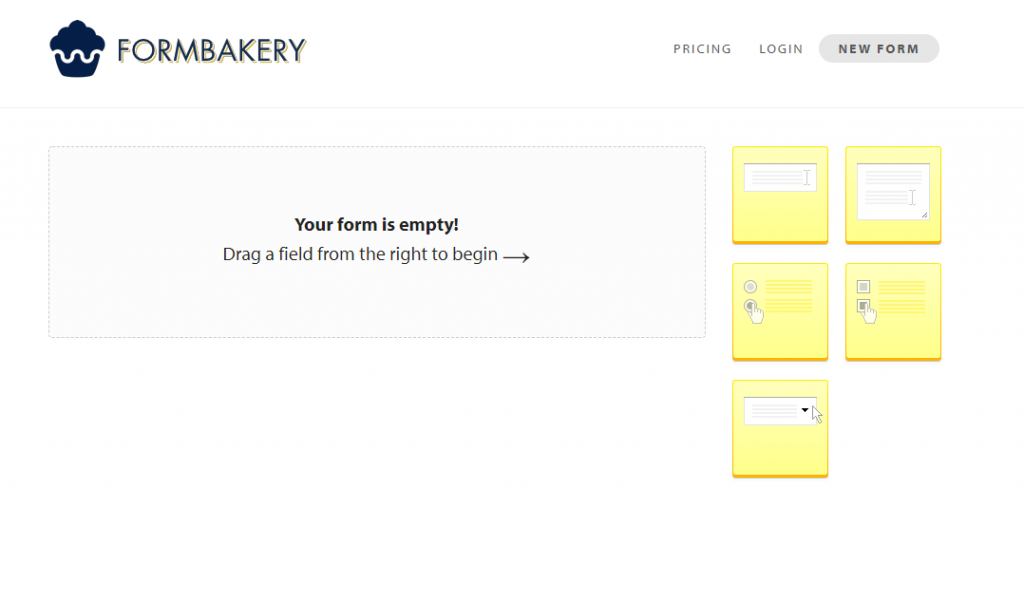 Formbakery helps you build self hosted forms. Use our online form builder to create professional forms that just work. Export ready to use html, css, javascript …

Formbakery
If you have tried to build a easy form for your website, you will know what a type of pain is! When all you want is some text to be emailed to your inbox, they are so complex. Formbakery can be of help.
FormBakery allows you to create professional forms in the most simple way possible as one of the simplest drag and drop form tools out there.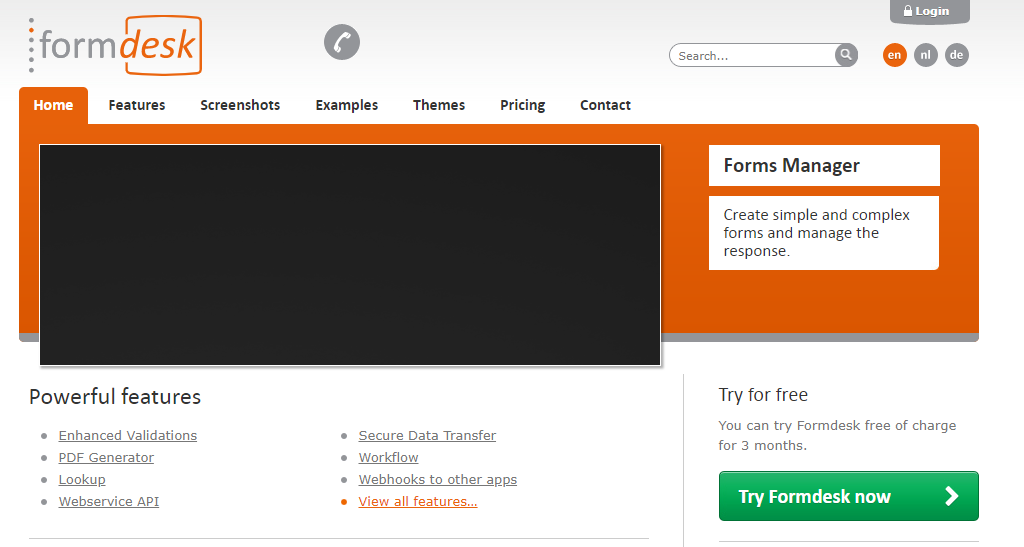 The tool to create and manage online forms, An online html form builder for surveys, questionnaires, HR forms, workflow registrations, order forms etc.

Formdesk
Formdesk allows you to create your own web forms like application forms, registration forms, order forms and surveys.
These forms can be placed on your website or intranet, or used for emails or social media. Formdesk forms are placed on our own servers that you can use a straightforward hyperlink or iframe to refer to.
Conversational Form, an open source platform, allows you to convert your web form into a easy chatbot.
This form builder is bound to drive user engagement by using a novel and smart way to collect information. At the same moment, however, it may be hard to know your way around the tool owing to its fresh entry into the marketing room.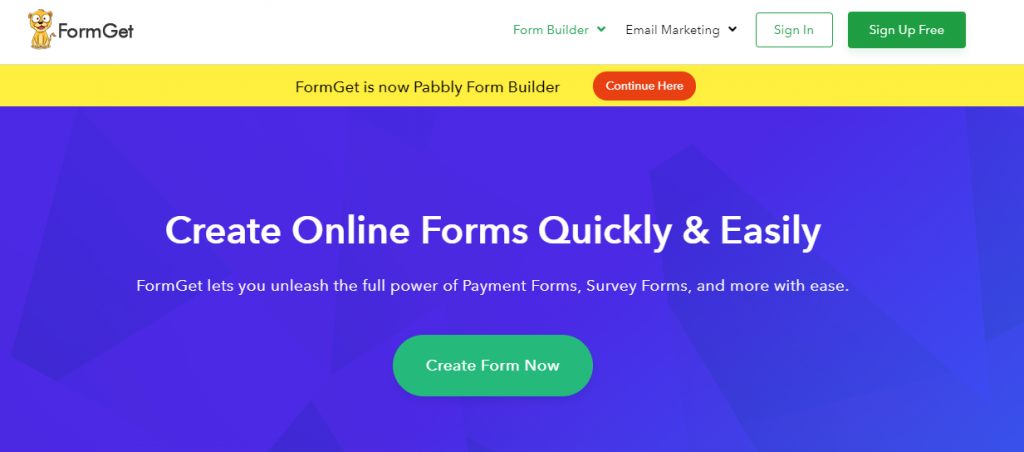 Sign Up For Free. An online form builder with email marketing software integrated, easy to build. It's now easy to create, embed, collect payments via responsive …

FormGet
FormGet has the advanced features that a 2019 form builder with its most customer-friendly solution should have! It's not a simple drag and drop builder, but with smart block publishers, countless gorgeous themes, lots of pre-built form layouts and more it surprises you. You can generate anything relevant from registration forms, payment forms, surveys, quizzes, questionnaires and much more with this form builder!
Conclusion:
The choices for form building tools are endless.
Most form builders give all the essential to create a basic design, but when you want better customization and greater data analysis, your choices begin to narrow down. Ultimately, the best form design for you relies on the purpose and specific business requirements of your team.